With the advent of mandatory energy audits for large businesses during 2015; many large companies have been surprised to see how large the transport energy footprint is in their audit reports, which for the first time included transport.
In energy terms, 1 litre of diesel is roughly 10kWh, so when you look at the Litres or Euros, fuel does not always seem as large as electricity; once you multiply by 10, fuel use often dwarfs electricity and heat use.
Has your business retained its 19% fuel cost savings?
Recent oil price reductions have led to a 19% reduction in the retail price of diesel over the last two years. Due to growth in the economy, many companies have failed to retain the savings, as growing business requires increased focus and attention.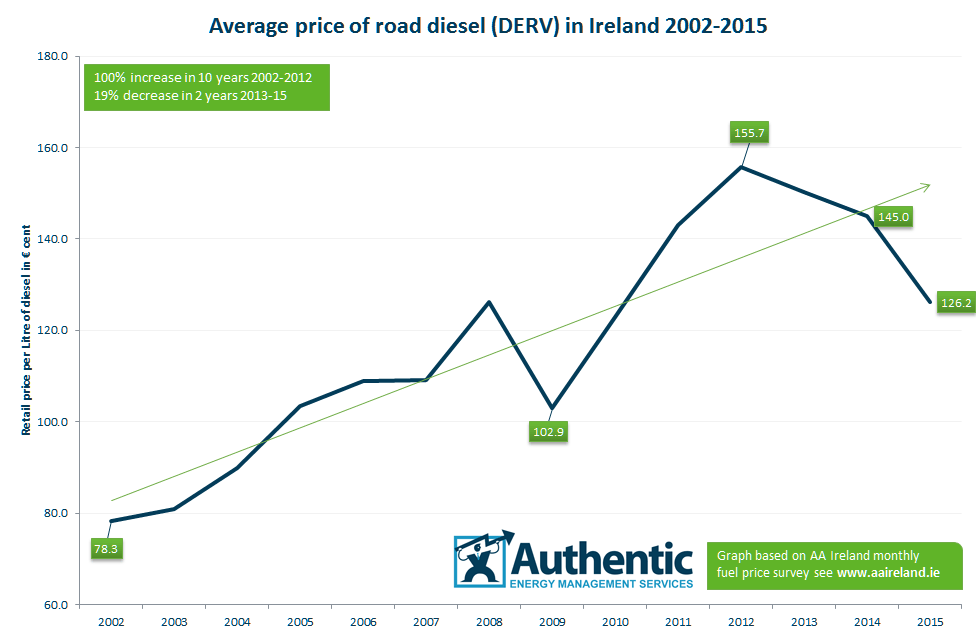 How long will diesel prices stay down?
Frankly your guess is as good as ours, but history can help us understand what will drive prices back up, if not when.
As oil prices decrease investment in new oil fields and supply decreases, it will be some time yet before the current record surplus stocks dissipate.
Demand continues to grow across the world, ensuring oil prices will increase: China is predicted to have 1 billion cars by 2050 and the world as whole 3 billion (source IEA).
How can your business profit from fuel?
Transport is uniquely dependent on oil, 100% imported here in Ireland. Heat sources can be swapped for locally sourced renewables and electricity is increasingly green (22.7% renewable according to SEAI for 2015 – http://www.seai.ie/News_Events/Press_Releases/2015/Carbon-Content-of-Irish-Electricity-Generation-Hits-Record-Low-in-2014.html ).
Switching company vehicles to electric cars or vans is well worth it, with significant fuel cost savings and corporation tax breaks
(See http://www.seai.ie/Grants/Electric_Vehicle_Grant_Scheme/I_am_a_consumer/Accelerated
_Capital_Allowances_for_EVs/ for example).
But existing fleet vehicles and those with high mileages will continue to use fossil fuel. How will your business grow and reduce its transport energy use?
The key is to manage fuel as you manage labour and other costs, quantify your fuel use in Litres and Kilometres; take a structured approach to managing energy use. Free tools are often available as part of your fuel card service, some fuel card providers now bundle vehicle tracking with their card services and vice versa. These services are similar to ResourceKraft's metering and reporting services.
Having the data is one thing, how will you ensure your business sees the fuel and energy cost savings in your bottom line? The international best practice standard for energy performance management is ISO 50001; funding towards the internal and external costs of 50001 certification is available from Enterprise Ireland and the fuel companies own fund – Enprova http://enprova.ie/transport/
If your business is missing its 19% fuel cost saving, would like to reduce its greenhouse gas emissions, or be recognised for its energy saving performance; request a quote (http://aems.ie/rfq/) or talk to ResourceKraft.
About the author
Conor Molloy, is an independent energy advisor with an MSc in Energy Management and Renewable energy from University of Ulster, he is a Certified Energy Manager (CEM), Measurement & Verification professional (CMVP) and trainer for ISO 50001.
In recent times, he has trained over 100 ESOS Lead Assessors in Transport Energy Auditing, led the publication of EN 16247-4 Europe's transport energy audit standard and contributed to ISO 50004.
Since 2005, Conor has been helping business save fuel and manage their energy usage for profit and reduced emissions. Accepted as a member of the Association of Energy Engineers, CILT, FTAI, IMCA and EVO, he is a registered lead ESOS assessor (UK) and registered energy auditor (Ireland).